Hamarikyu Gardens, the Garden of Tokugawa Shogun (October 2009)


Hamarikyu Garden was made in the 17th century as the family garden of the Tokugawa Shogun.
It is a very good place to visit when you are tired of crowded and noisy Tokyo.
Very near from Ginza, Shodome and Shimbashi.
You can see the whole image of the garden from the tall buildings in Shiodome area.
The following photo is from the 46th floor of Dentsu Building.






The main characteristics is that the garden has the tidal pond called 'Shioiri-no-Ike'.
This is the style of garden that the change of the tide gives the change of the view of the garden.
Because it takes the seawater from Tokyo Bay, you can see the fish in the pond
such as black mullet, sea bass, goby and eel which normally live in the ocean.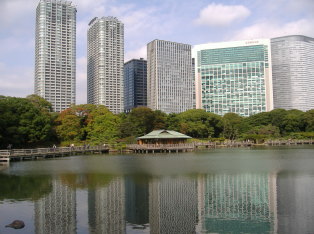 You can cross the pond by walking the bridge called 'Otsutai-bashi',
which is made from Japanese ceder 'Hinoki'. Its length is 118m.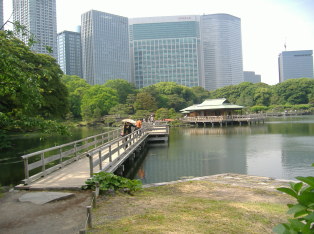 There is a teahouse 'Nakajima-no-ochaya' in the middle of the pond
where you can enjoy the view of the pond and powdered green tea with sweets.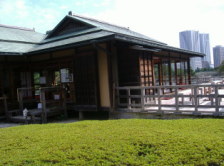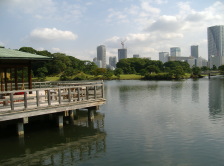 You can appreciate the variety view of the pond from the various angles.
The contrast between old garden and new modern buildings is also interesting.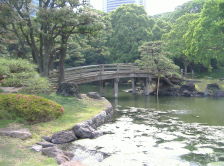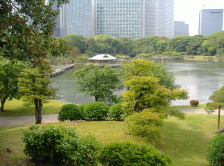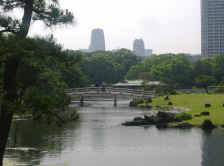 Another interesting aspect is that there are duck hunting sites in the garden.
The garden was made for the recreation of Tokugawa Shogun family.
As well as they enjoyed fishing and boat riding on the pond, they enjoyed wild duck hunting.
Blinds were built to observe the wild ducks.
They used stool duck to lure the wild ducks and caught them by nets or hawks.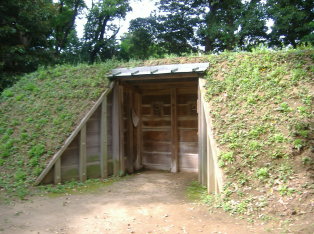 There are many kinds of trees and flowers in the garden.
This is the pine tree which was planted more than 300 years ago,
at the time of the foundion of the garden, and still surviving!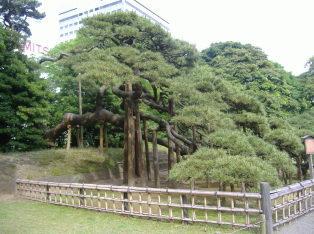 You can appreciate various flowers in each season.
Japanese apricot (plum) and narcissus in Winter.
Cherry blossom, peony and azalea in Spring.
Hydrangea and Iris in Summer.
Cosmos, crested leopard and red leaves of maple in autumn.