Souvenir of Japan
This page is for explaining the Japanese souvenir.
Shopping must be one of the most interesting things during your travel.
But at the same time, your suitcases will be heavy.

It may be a good idea to buy Japanese souvenir before going to Japan.
Or, if you cannot go to Japan, but you want buy Japanese goods,
please check the following sites.

These are not only for the tourists.
You can find genuine Japanese products!


Japanese Dolls


MATARO-DOLL

Mataro makes genuine Japanese dolls. The skill has been inherited over 260 years.

Kimono
Kimono, Japanese traditional wear

Kimono is Japanese traditional wear.
You can buy complete kimono sets with reasonable price.

Or you can choose the accessories from variety of choices.
Ukiyoe
Ukiyoe

Ukiyoe is woodblock prints and paintings produced between 17th and 20th centuries, featuring motifs of landscapes, tales from history, the theatre, and pleasure quarters.
Ukiyoe has been reproduced nowadays by the skilled craftsmen.
Character goods
Figures by Kaiyodo

Japanese pop culture has become popular worldwide.

Kaiyodo has variety of figures from heros to pretty girls.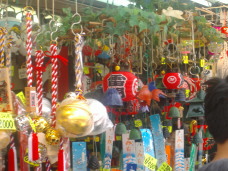 You can buy Japanese souvenir while you are in your country.




Top page

General information of Japan

World heritage in Japan

Accommodation in Japan

Japanese food

Japanese culture (National Treasures)

Japanese culture 2 (Culture in everyday life)

Japanese sports

Japanese religion

Souvenir of Japan

continually updated !


Travel Diary in Tokyo

My profile

Link

English Guiding Service

info@ltij.net