Link exchange
If you wish link exchange with my site,
please send me an e-mail after you set the link to my site.

I don't have a banner, so text link will be preferable.
Following is the information of my site.


Name of the site: Let's Travel in Japan!

URL : https://www.ltij.net/

Explanation of the site (you can arrange the sentense) :
This is the site to introduce Japan and Japanese culture for foreigners who plan to visit Japan and who are interested in Japan.


My name is Hide.
My e-mail adress is
info@ltij.net

I am not responsible for any trouble between you and the listed sites.
I refuse the link exchange with the following sites;
- porn & erotic site
- gamble
- the site that I consider not appropriate.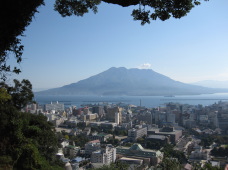 Sakurajima in Kagoshima




Top page

General information of Japan

World heritage in Japan

Accommodation in Japan

Japanese food

Japanese culture (National Treasures)

Japanese culture 2 (Culture in everyday life)

Japanese sports

Japanese religion

Souvenir of Japan

continually updated !


Travel Diary in Tokyo

My profile

Link

English Guiding Service

info@ltij.net