World Heritage in Japan 3
Yakushima (Yaku Island)
Yakushima or Yaku Island (Nature, registered in 1993)
Yakushima was registered as a Narural Property together with Shirakami Mountain Range in December 1993.
The registered area is the forest of 10,747 ha which coves about 20% of Yaku Island.

Main characteristics of Yakushima is vertical distribution of the plants. Miyanouradake (1936m) is the highest mountain in Yakushima and it snows on top. So, you can see the plants of every island in Japan from Hokkaido to Kyushu. That is why this island is called 'Alps on the sea'.

Yakushima is famous for Yakusugi (cedar tree). Characteristics of Yakusugi is nonperishability. The land mainly consists of granite and the surface soil is very thin. So the cedar cannot absorb enough nutrient elements. By this reason and a lot of rain, the cedar keeps a lot of resin which makes cedar nonperishable. New cedar is born from stump or fallen tree.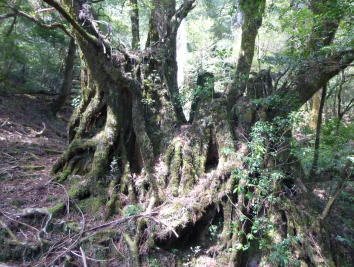 Regeneration of ceder on stump

The oldest tree is Jomonsugi, cedar tree who is supposedly 7,200 year's old. The round trip to Jomonsugi takes about 10 hours walk. If it is too long, you may like to visit Yakusugi Land or Shirataniunsui Canyon where you can enjoy easy walk in the cedar forest. from 30 minutes.

And Laurel Forest Zone called Seiburindo is the only world heritage area where you can visit by car. Sometimes you may encounter Yaku deer or Yaku monkey.
(Reference: Website of Yakushima Tourist Association)


How to access from Tokyo (example)
Tokyo International (Haneda) Airport-(Airplane)-Kagoshima Airport
-(Airplane)-Yakushima Airport
Net flight time: About 2 hours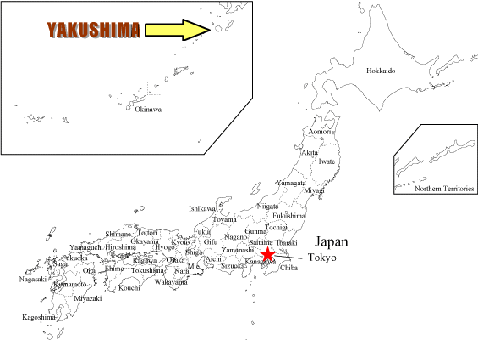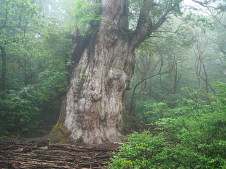 Jomonsugi, Cedar tree



Top page

General information of Japan

World heritage in Japan
   -Horyuji Temple
   -Himeji Castle
   -Yaku Island
   -Shirakami Mountain Range
   -Ancient Kyoto
   -Shirakawa-go and Gokayama
   -Hiroshima Peace Memorial
   -Itsukushima Shrine
   -Ancient Nara
   -Shrines and Temples in Nikko
   -Kingdom of Ryukyu 
   -Kii Mountain Range 
   -Shiretoko
   -Iwami Silver Mine
   -Ogasawara Islands
   -Hiraizumi
   -Mount Fuji
   -Tomioka
   -Site of Industrial Revolution
   -Architectural Work of Le Corbusier
   -Okinoshima & Munakata



Accommodation in Japan

Japanese food

Japanese culture (National Treasures)

Japanese culture 2 (Culture in everyday life)

Japanese sports

Japanese religion

Souvenir of Japan

continually updated !


Travel Diary in Tokyo

My profile

Link

English Guiding Service

info@ltij.net