Visit Provence

Southern France is also the region with a lot of things to see.
Influenced by the essay of Peter Mayle,
you may not be albe to resist the charm of the word 'Provence'.

Unfortunetely it is not easy to visit Luberon region where Peter Mayle lived
unless you don't have a car.
I find very few tours to visit this area from Japan.
Even I have never been there.
But Luberon is not the only place you should visit.

Arles
George Bizet composed 'L'Arleasienne.
In my past days, I thought Arles is the city in Spain
because I thought Bizet was Spanish who also composed 'Carmen'.

Of course it was wrong.
Bizet was French and Arles is in France.
But the atomosphere of Arles is more like Spain
with Roman ruins and women with colorful shawl.

You can enjoy 3 different aspects in Arles.
1. Roman ruins like Amphitheater and Roman bath.
2. Medival constructions like Sant Trophime Churce.
3. The paysage which Vincent van Gogh painted,
for example Gogh's Bridge, Cafe van Gogh, Rhone River, etc.
If you stay in this city overnight, you should visit Cafe van Gogh after dark,
then you feel like you are in the late 19th century.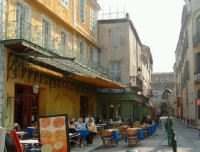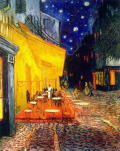 Avignon
Pope's palace was set in Avignon for 68 years in 14th century.
You find a solemn 'Palais des Papes' constructed at that time.
There are not things to see inside, so you enjoy the beautiful construction itself.




'Pont St-Benezet' is another spot to visit.
This is the place of the song 'On the bridge of Avignon'.
Let's dance on the bridge!
In fact, it is said that this song is to dance at the foot of the bridge...

Marseille
Marseille is the biggest harbor city in France.
The old harbor is very lively with the open-air vendor of the see foods.
There are a lot of restaurants who serve famous 'Bouillabaisse'.

If you visit 'Basilique Notre-Dame de la Garde' on the hill,
you feel the atomosphere of the harbor city
when you see the model ships dedicated for the safety during the cruise.
You also enjoy the spectacular view of the harbor
and Mediterranean See from the hill.

Aix-en-Provence
There are a lot of fountains in the city.
'Cours Mirabeau' is the main street of the city
with platanus trees and beautifully sculpted fountains.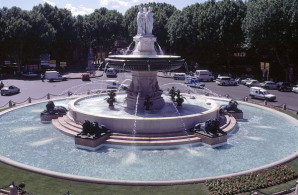 Painter Sezanne lived here in his later days and you find his atelier.
From the city, you can see the Ste-Victoire mountain which he repeatedly painted.
It may be interesting to compare the real mountain and his paintings.

Pont du Gare
Aqueduct bridge 'Pont du Gare' is a amazing spectacle.
It was constructed during the Roman period about 2000 years ago.
There is 3 layer-arches. The water was supplied beyond 50km.
The technology of the Roman period is surprising!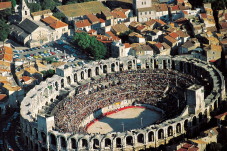 Amphitheater in Arles



Top Page

Travel Planning

Paris

Ile de France

Alsace and Lorraine

Provence

Cote d'Azur

Normandie

Hotel in France

Study in France

My Study in Language School

My Study in Sorbonne

French Art -3 Major Museums-

French Art -Enjoy Museum Visit-

From Classic to Chanson

French Movie

Everyday Life in France

Gastronomie

Link

Profile

island@pjta.net