My school life 2 - Sorbonne University

Entering Sorbonne University
My 5th month after coming to Paris, I entered Sorbonne University.
Actually, it is not a real university.
It was the course for the foreign students called 'French Civilisation at Sorbonne'.

You can enter this course even if you don't know French language at all.
Before entering, we take an examination for the placement.
There are 4 levels from the high grade to the low grade.
And inside the each level, we are subtilized more.

The class consists of mainly 3 parts.
1. Language
2. Pronunciation
3. French culture



The language class of the Sorbonne, we mainly study grammer.
The purpose of the private language school is
to be able to speak daily conversation,
but the Sorbonne's purpose is to aquire the right French.

At the private school, we say 'tu' ('you' when we talk to friends)
to the teacher, but at the Sorbonne,
we say 'vous' ('you' as a respect form) to the teacher.

Pronunciation class is very simply, just follow the sentence
after the teacher or recorded tape.
But you can acquire liaison and intonation naturally.

French culture class
My main purpose to enter the Sorbonne is to learn French culture.
The subject changes by the day. The class takes 1.5 hour everyday.
We had French history, Paris history, French art, French society, etc.

Though teachers had class in French, they speak very slowly using easy sentence,
because everyone in the class are foreign students.
For me, this class was what I liked most, but unfortunately,
the number of students diminish day by day.
It was like a class in the large classroom at Japanese university.

I especially liked History of Paris and History of French Art.
Teachers show us slides to explain.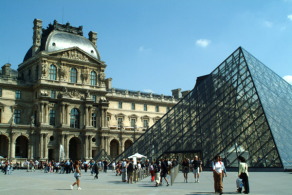 The pictures are
- Historic buildings in Paris or
- Art works which are found in Louvre and Orsay Museums.

So I could see the real things
after the class.

I used to go to Louvre Museum
almost every month,
especiall on the first Sunday when we can enter for free.

I got to know George de la Tour for the first time by the class.
He became one of my most favorite artist now.

Anyway, Paris itself is like a classroom.
What a luxury classroom!

Living in the apartment
I liked to stay with a hostfamily,
but I also wanted to experience living in the apartment.
Then, luckily my acquaintance lent me his apartment room with very low price.
t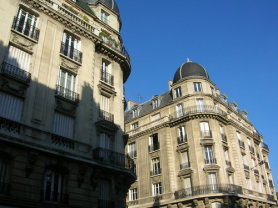 The apartment was situated
in 17th arrondissement,
near the metro station Wagram
about 1.5 km from
the Arc de Triomphe.
Quiet area
with luxury apartments.

Nice area but different from
20th arrondissement,
there were not daily stores
around the apartment.

And when I stayed with a family, someone is always in the house,
so I felt little lonely for the first few weeks.
But gradually the life became happier.
I could use shower anytime I wanted and I could invite friends to my house.

I mainly ate dinner at the university restaurant.
University restaurant (Resto-U) is not in the campus,
but we can find several Resto-U in Paris.

One was in the basement of Grand Palais.
Cafeteria style and we can choose appetizer, main course and dessert.
To my joy, it costed only 15 FF (about 300 Japanese Yen).

I didn't cook at home, so when I ate at home,
I bought bagette (Long French bread) and ate with cheese and patty.
The fresh bagette is really good.
I used to bite it before arriving home.

It was very good that I experienced both homestay and apartment life.
I cannot say which is better. Both styles have their merits.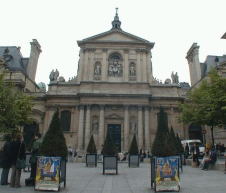 Sorbonne University



Top Page

Travel Planning

Paris

Ile de France

Alsace and Lorraine

Provence

Cote d'Azur

Normandie

Hotel in France

Study in France

My Study in Language School

My Study in Sorbonne

French Art -3 Major Museums-

French Art -Enjoy Museum Visit-

From Classic to Chanson

French Movie

Everyday Life in France

Gastronomie

Link

Profile

island@pjta.net